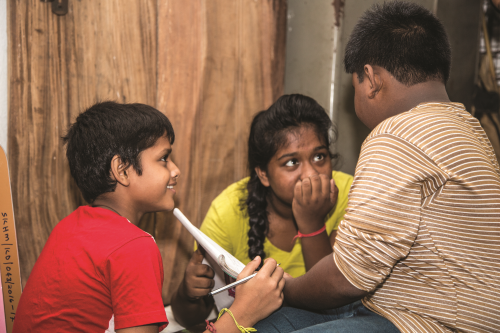 South Kolkata Hamari Muskan (SKHM) is the brainchild of Srabani Sarkar Neogi, a social development activist, with 20 years of working experience in red light areas (RLAs) with women in prostitution (WIP) and (their) children.

During her initial years in the field, Srabani was moved by the lack of safety among children living in the RLAs, especially while WIPs were working. In that time, children were often driven out of their homes—whether day or night— leaving them with no safe space where she or he could eat, sleep, play or relax. This lack of safe space made children even more vulnerable to incidents of abuse (physical, verbal, sexual & emotional) & neglect. Her findings also showed that these at-risk children faced abuse from the very person they got to meet every day (their mother's clients, pimp or brothel-owners) leading to emotional scars which often took a lifetime to heal.
The lack of space also meant an invasion of privacy—especially for young-adult females—which led to physical & emotional ill-health. Even while they were at home, menstruating young female adults found it especially hard to cope with daily hygiene rituals since RLAs do not have private, en-suite bathrooms.

Srabani started SKHM primarily to provide a safe and secured environment for this young milieu. Unlike other NGOs, SKHM's primary focus was on psychological intervention to help heal emotional scars and build resilience, supported by educational assistance. SKHM's hope is that every child should attend school.

The organization started working with children of WIP in the Bowbazaar red light area (in Central Kolkata) from October 2009. On March 4, 2010, it was formally registered as a "Not-for-Profit" charity under Registration of Societies West Bengal Act XXVI of 1961. When it started its day-care learning centre-cum-crèche on November 2009, SKHM worked with 16 children.

SKHM runs education, psychological and nutrition-based intervention programmes with children in RLAs. Along with this, SKHM also runs life-skill, leadership, livelihood-training and resilience-building programmes for WIPs and community youths. By creating a strong mother's group, SKHM ensures a continuity of education and prevention of second-generation prostitution.

In July-August 2016, SKHM established two new day care centre-cum-crèche at Bowbazaar and Shonagachi.

By 2018, SKHM has reached 255 children, 60 youths and 30 young women directly and approximately 1200 adults in the community, indirectly.