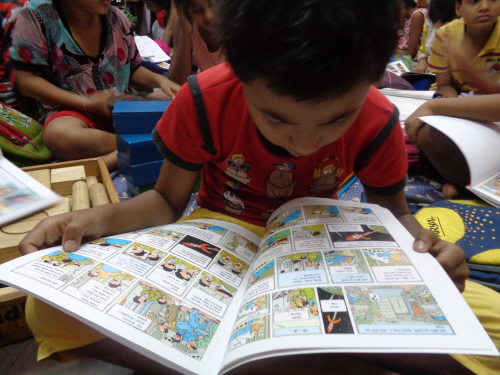 Volunteer Programme of South Kolkata Hamari Muskan
South Kolkata Hamari Muskan welcomes volunteers to work with its children, youths and mothers in the Bowbazaar and Shonagachhi centres.
Volunteers contribute to the cause through following programmes:
Spoken English Programme - SKHM children are mostly first-generation learners who study in Bengali-medium schools. They lack skills to communicate effectively in English. Help these children by teaching them interactive English (once a week) in our centres.
Computer Literacy Programme - Volunteer with the children or youths and introduce them to the possibilities of computer literacy or simply help them practise.
Tiny Tots Programme - If you love working with children join SKHM's Tiny Tots Programme. Read rhymes, sing or teach basic pre-school topics to those between 3 and 6 years old.
Advocacy & Awareness Programmes - Share the SKHM cause in your network / social media / school / college. Come intern in our administrative / office.

Note:
• Volunteers will have to abide by our Child Protection Policy.
• Intake of volunteers will depend on availability of posts.
• Certificate of Appreciation will be given only after a completion of the stipulated period of work.

Help Us Raise Fund
Help us crowd fund particular projects.
Or
Write to us with your ideas on how you would like to contribute to our volunteering programme

DONATE
Kindly contact us at hamarimuskan@gmail.com to make a donation.